Empirical \im-pir-i-kel\ (adj.): concerned with, or verifiable by observation or experience rather than theory or pure logic

Contact us by Phone: +86 138 1611 6670 or Email: thorsten.kalus@empirikgroup.com

empirik group is a multi - disciplinary group of professionals covering today's high growth sectors:
* Public Health
* Eduction
* Alternative Energy
* Lean Manufacturing

Business advisors focusing on operations and management in today's high growth sectors, working from a foundation of transparency, partnership and integrity. Comprised of member professionals who are highly seasoned senior executives able to provide total management solutions for new market entrants as well as existing business operators. Empirik members, advisors and affiliates work alongside a company's team to address their central issues, thereby enabling clients to capitalize on their greatest opportunities providing and implementing solutions to drive sustainable growth. All empirik professionals are seasoned business leaders in their own right, bringing to each engagement a range of perspectives and practical, hands-on experience gained from decades of building and growing businesses which enable them to deliver solutions and results which are grounded in real-world knowledge and expertise.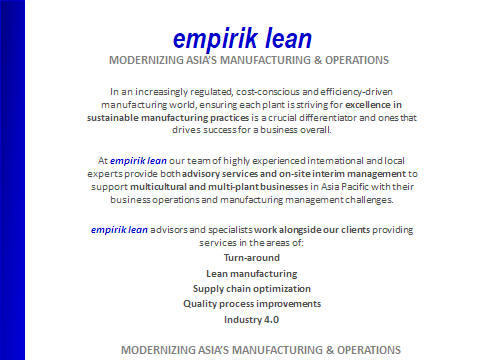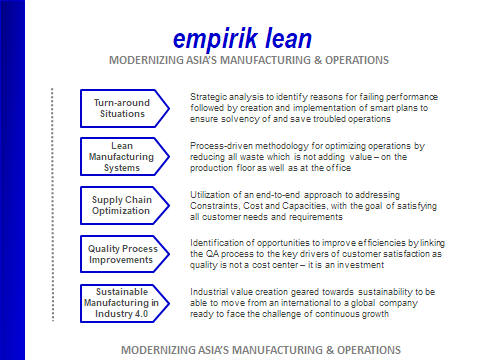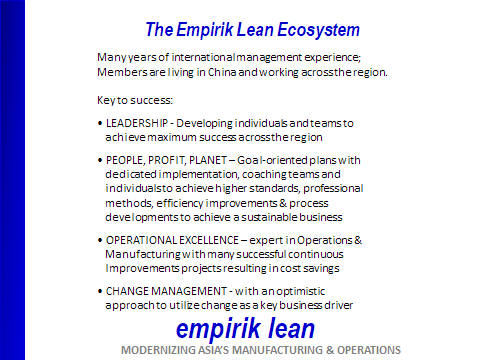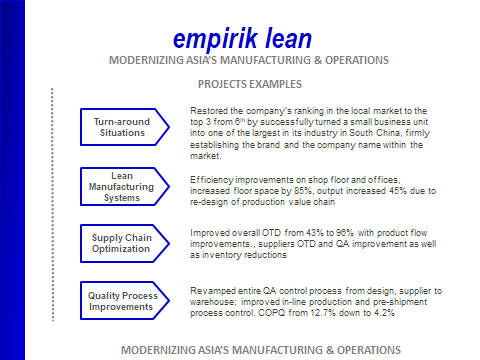 Problems are unavoidable; but they also present opportunities to allign purposes, process and people.
With the right structures and problem-solving tools in place we can enable your people to contractually deliver operational excellence!
We have plenty of experiences within the Asia-Pacific region with its diversity of cultures and languages.
-----------------------------------------------------------------------------------------------------------------------------------------------------------
Biography:
THORSTEN KALUS, SENIOR PARTNER
Thorsten has been involved at all levels of business development in China from establishing to re-structuring offices and businesses as well as team building, staff coaching, large scale project execution and in leading Manufacturing- / QA-/ Process Á System Improvements since 1994. Thorsten has also experiences in inspections & audits according to international standard. Prior China Thorsten has been in a number of foreign countries in Europe, South East Asia and the Middle East. Find out more about his work experiences as well as References below.
Thorsten primarily background lays in the electrical and electronics (Master degree as an EE from a highly recognized German University with high credentials); Over 25 years of experience as Project- and Operations Manager in the AP region with focus on Production, Engineering, Quality, Supply Chain- and Lean Management. Green field experiences in several SE Asian countries and China.
Beside the native German tongue he speaks English and Russian fluently and has proficiency in Mandarin Chinese. Thorsten understands Chinese customs and culture, has built the very important network (so-called guanxi) and knows the "ins and outs" of doing business in China. He is a 100% professional and knows how things are working in China and how to get things done! As there are many problems in building and running a business particularly in China Thorsten does know the answers and has always found reasonable solutions!
Experiences within China, The Asian Pacific Region and Worldwide
<![if !supportLists]>Ø <![endif]> General Management:
* Successfully established and grew an existing $20Mio operation into a +$100Mio business due to expansion and re-organization as well as setting up new manufacturing facilities, achieving annual growth over 38% in China and 27% in Asia Pacific for a Structural Core Material manufacturer.

* Overseeing within the Asian-Pacific region extensive Operations in China, re-organizing Operations in Australia and building new Operations besides China in India, Indonesia and Thailand by having full P&L responsibility. Focus on process improvements by using Six Sigma tools, establishing Lean Management to achieve Operational Excellence, cost saving and safety improvement. All units having great quality record, are certified ISO9000 and running in accordance to ISO14000 and local environmental regulations.

* Established and successfully managed China Sales operation for a global supplier of special alloy material to the electric & electronic connector industry and developing the Asia Pacific Region.

* Managed to change a China facility from a German branch operation to an independent company with sole P&L responsibility.

* Key team member in setting up a new production line for an enhanced Hi-Tech product for network / base station appliances for the China operation of an American connector manufacturer, involved in setting up control and manufacturing procedures as well as all aspects of systems and quality control for the entire manufacturing process.

* Established and managed the operation of Siemens AG's Industrial and Building System Division on behalf of Siemens AG Germany in China, Shanghai office and hired, trained and supervised a staff of foreigners and local nationals.

* As Senior Project Manager solely responsible for building and starting manufacturing operations in various industries (textile, food & beverage, chemical) in China, Asia and Europe.

* Management of client servicing and financial oversight responsibility; Lead a team of 35 employees engaged in product safety certification, system & management certification (ISO 9000 and 14000), factory and pre-shipment inspections with full profit and loss responsibility. Restored the company's ranking to among the top 3 in the local market by growing the existing client base over 50% while revenue increased 80% compared to the previous year.

* Successful turn from local Representative office to a Branch Office.
<![if !supportLists]>Ø <![endif]> Operation Management:
* OpEx = Operations Excellence, Process Optimization, Lean Management approach and Six Sigma – elements to improve operations, factory layout, manpower optimization and quality improvements.

* Lean Management and Six Sigma Project to optimize process, cut cost and to increase profitability in the organization.

* Feasibility studies to undertake market research for: a German Mill of special copper alloys for building a mill in China to supply material locally; for an Australian Logistics company for building a plant and starting production for one of the client's new businesses in China.

* Actively involved in guidance for new environmental directives set by the EU on restriction of use of certain hazardous substances in electrical and electronic equipment as well as on handling waste of such. Organizing seminars to further introduce new directives set by the European Union such as RoHS, WEEE and EVL as well as environmental standards from Asia such as Sony Green Partnership.

* Revamped entire Supply Chain in AP's plants to achieve better communications, better customer service, On-time and In-full deliveries in a more efficient and more economical way then previously set up.
* Process and Quality Consultancy for about 10 facilities for a MNC connector manufacturer, a supplier to the Automotive-, Hi-Tech- and Mobile Phone industry.
* Improvement of quality and efficiency of the manufacturing process and coordination between individual departments within one of the main factories of a supplier of low frequency communication connectors to the Hi-Tech and mobile phone industry as well as improving international relationship with major clients throughout the world. As a result the client could increase its order income over 60% in comparison to the previous year.
* Electrical study to upgrade and increase of productivity for the power system of one of the world largest beer producer with a JV in Wuhan, Hubei province, China;
* Contractual and Technical support for of manufacturing extension for a Copper Tube manufacturer in Zhongshan, Guangdong province, China;
* Technical, Sales and Project Management support for several MNC's in Guangzhou, China.
* Professional inspections for quality and quantity of supplied or to be supplied goods and products in accordance to required standards, e.g. for NZ Woodcraft Radiata Pine Ltd.
<![if !supportLists]>Ø <![endif]> Project Management:
Lead turn-key projects of multinational teams with up to 250 people as Project Manager for installations of Power Supply Stations, Electrical and Mechanical Installation, Telephone and Computer Networks and Installation of its hardware, Water- and Waste Water Treatment Stations with full responsibility for quality, time and cost effectiveness:

* Main Mechanical & Electrical Contractor for Shanghai Links Executive Community to install 2 x 20MW Transformer station, 10kV electrical distribution network and Water- and Waste Water Treatment Plant in Shanghai / Pudong, China

* Installation of Power Supply Equipment, Telecommunication and Computer Network for Zhangjiagang Yangtze Spinning Mills I & II, China

* Installation of Power Supply Equipment and Telecommunication Network for Chargeurs Wool Combing and Textiles in Zhangjiagang , China

* Extension of Power Supply and new Brewery Line for Shanghai Mila Brewery, China

* 30kV Power Supply and Distribution Network for Formosa Plastic's new Oil Refinery in Central Taiwan

* Power Transmission and Distribution for Yangpu New Development Zone on Hainan Island, China

* 400kV Switchgear, Transformer and Cable Systems for the 540MW Hydro Power Station in Chamera I, India

* Two independent 220kV High Voltage Cable Systems and Substations in Bombay, India

* 230kV Switchgear replacement at Hadeed Steel Plant in Jubail, Saudi Arabia .

* 14km 110kV Power and Fiber Optic Cable System in Mecca, Saudi Arabia

* Engineering, Commissioning and Consultant Projects in Germany, Austria, Turkey, Qatar, Indonesia, India
<![if !supportLists]>Ø <![endif]> Sales & Business Development Management:
Business development, project calculation and contract negotiations for projects within the China's Yangtse Delta region on behalf of Siemens AG Germany. Although Siemens AG is a well-known company operating worldwide, for this particular section of business it did not have reference projects at the time in China. Within 24 months the reference list included more than 20 projects worth over 24MUSD (in years 1996 – 1998):

* New electrical installation for the German Consulate in Shanghai, China

* Chargeurs Wool Combing and Textiles in Zhangjiagang, China (Power Supply and Installation)

* China's first Metro Shopping Center in Shanghai, China (Power Supply and Installation)

* Shanghai Murga Steel Abrasive, China (Power Supply and Installation)

* Shanghai Henkel, China (Power Supply and Installation)

* Henkel, Thailand ( Power Supply and Installation)

* Bayer Pigment Shanghai, China (Power Supply and Installation)

* Main Mechanical & Electrical Contract for Shanghai Links Executive Community including Water and Waste Water Treatment, China

* Lion Nathan Brewery in Suzhou, China (Power Supply and Installation)

* Extension of Second Brewery Line for Shanghai Mila Brewery, China

* Sales of several of Power Supply Equipment (Transformers, Switchgears, Generators) and hardware for telecommunication and computer equipment.
-----------------------------------------------------------------------------------------------------------------------------------------------------------
References:
All references are original statements and could be verified by the various senders
TO WHOM IT MAY CONCERN
REFERENCE, THORSTEN KALUS, REHAU COO - ASIA PACIFIC
... I will always remember Thorsten as a reliable and dependable person who stood for what he believed for. Thorsten was always willing to lead by example and be hands on. Whether it was China, India or South East Asia, he was able to adjust to different customer needs. Thorsten has a deep understanding of lean concepts and he brought that knowledge to make improvements. I would recommend Thorsten without any hesitation.
Vijiay Jain
CEO Asia Pacific Rehau

Vijay managed Thorsten directly


March 2018
---
... Thorsten Kalus or we called him just Thorsten, he is my former supervisor when we were working together at REHAU company. He is understanding well of how Sales, Supply Chain and Operation shall be integrated. As one of his sub-ordinates, I was given a great opportunity to be independent to organize, plan and initiate as well as to able to deliver from initiatives to real results with his support and directions with his good understanding of Supplu Chain Management concept. It was a good time even it was short, and thank you for the opportunity to work with him. Thank you!
Saisuda Niyomjaneka
Director Supply Chain Managment Asia Pacifc, Rehau Thailand
saisuda_niyomjaneka

@

yahoo

.com
July 2017
---
... It is always a pleasure working with a boss who is balanced evaluator, crucial critic, a knowledgable guide and an influencial leader.
The main quality of Thorsten is to be the extra ordinary strategist; he can clearly analyze problems, classify into peculiar segments and act on accordingly.
While orking on the foundation for a new plant he was a person who can forsight the future, understands the need of necessity decisions and helped to convince against existing dilemmas. With through expertise in electrical energy conservation and unique sense of cost saving he caught the glimpse while budgeting the projects both greenfield as well as brown field.
Initiative for effective lean management with modified plant layouts and changing existing stubborn mind sets with technics like box simulation team building games. To annalyse the strenght and weakness of team member and precise application of right person for the job is a master quality of Thorsten.
Dinesh Thakare
Rehau India Project Manager
June 2017
---
REFERENCE LETTER, THORSTEN KALUS, DIAB OPERATIONS MANAGER - ASIA PACIFIC
Thorsten' task was mainly to develop our presence in Asia Pacific and build a structure for the future, together with the regional sales managers. He started with a newly created organizational unit, minor production and in Sydney (AU).
Thorsten's run over the years up to today includes several projects:

<![if !supportLists]> Ø <![endif]>New production lines in China in 2007, 2008, 2009, and another initiated in 2009 for 2010. Revenue doubled in almost every step, at good profitability and continuously improving delivery performance. Also the complexity has increased at the same time, with more value added and a more comprehensive product portfolio.

<![if !supportLists]>

Ø

<![endif]>A completely new green field factory in India, inaugurated in spring 2008. This project was an "Indian" experience with many detours with Indian administration, and also customer challenges affecting. The unit was fully operational in 2008. The project cost was under full control.

<![if !supportLists]>

Ø

<![endif]>Restructuring and moving operations in Australia

<![if !supportLists]>

Ø

<![endif]>

Setup of an operation in Thailand
Today, turnover in AP region has more than tripled and the operations employ are above 600 including all functions that belong to a professional production organization. All units have achieved their IS09001 certificates, and ISO14000 is in progress. During this process Thorsten successfully introduced Lean processe and Six Sigma, trained the staff and closed several successful projects in this area.
Thorsten left a fully functional operations organization and has developed regional footprint as requested. He has proven to be very target - oriented and systematical manager, respecting reporting and procedures with no financial surprises whatsoever - on the contrary, financial targets were in all cases met.
Anders Paulsson

CEO DIAB Group

September 2009
---
Thorsten has a unique perspective of the world as he has worked in many countries and cultures. This is evident in how he is able to find good people in different cultures that pull together to work well as a team to solve challenging problems. He analyzes how each person can best be utilized within an organization. Thorsten is also very focused on results and adhering to commitments. Specifically, he expects projects to be completed on time and on budget. He trusts his managers to determine the best methods to accomplish their goals, but lets them be aware that he is always available for support. I have learned much from working with Thorsten and consider it an honor to have had this opportunity.
Michael Laughner, Asia Pacific Regional Six Sigma Manager, DIAB Inc
reported to Thorsten at DIAB
mklaughner@gmail.com
April 2009
---
REFERENCE, THORSTEN KALUS, INDEPENDENT CONSULTANT, ASIA-PACIFC / GREATER CHINA
... I can say it is disappointing that Amphenol China Ltd. loose such a talented and motivated team player. Thorsten, it has been a pleasure to work with you and I have enjoyed our meetings very much. I wish you and your family all the very best for good health, happiness and success in your new endeavors. May God Bless you and take care!
Paolo Menolotto, Engineering Manager, Amphenol Australia Pte.
paolomentolotto@amphenol.com.au
January 2005
---
Although I understand your reasoning, I am very sorry to see you go. I firmly believe that our Amphenol operations in Asia will quickly miss you and your counsel and will be the worse for your absence.
I truly enjoyed our time together.
Sam Waldo, Amphenol Ltd. Headquarter
waldo@amphenol.com
January 2005
---
Tennant Logistics Co. Ltd. is a wholly foreign owned subsidery of Tennant Ltd. The Tenannt group is a manufacturer and distributor of chemical and mineral products and has been intimately involved in the supply of raw materials to the mining, agricultural, industrial mineral and metallurgical industry for more than 35 years. The company has extensive expertise in the areas of logistics management, procurement and contract management of chemicals and raw materials and manufactures chemicals and fertilizers in three locations across Australia.

Thorsten Kalus worked for Tennant Logistics as a Project Manager in 2002. He was charged with undertaking a feasibility study for the establishment of an "ethical" arsenic trioxide manufacturing facility in China.

This study included the following
<![if !supportLists]>
·
<![endif]> Full plant specifications (size/output/process parameters) in conjunction with Tennant's technical management.

<![if !supportLists]>

·

<![endif]> Quotations to "design and build on a turn key basis" from the local Design institutes setting out design/costing/timing/deliverables.

<![if !supportLists]>

·

<![endif]> Legislative requirements specifying regulatory framework including licenses, permits and approvals.

<![if !supportLists]>

·

<![endif]> Location. The availability and cost of suitable land / services / transportation / infrastructure / workforce / utilities / raw materials.

<![if !supportLists]>

·

<![endif]> Operational cost analysis including fixed / variable costs and volume sensitivities.

<![if !supportLists]>

·

<![endif]>

A complete financial evaluation with input from Tennant's technical, marketing (revenue) and financial management team.

<![if !supportLists]>

·

<![endif]>

Identification of key risk issues and sensitivities to project viability.

<![if !supportLists]>

·

<![endif]> Preparation of a time line for the project.

Thorsten's project management experience, technical background and China experience were well suited to this task, which he achieved with organized efficiency within the required time frame. I would certainly consider utilizing his services again and, pending the agreement of our principle, in the implementation of the study were we to proceed to construct the plant.

Please do not hesitate to contact the undersigned for verbal confirmation of the above.

Duncan Andrews:

duncan@tennant.com.cn

Country Manager / Tennant Logistics

February 2003
---
… Thorsten Kalus worked for me in Copper Tube (Zhongshan) Ltd. China at as a consultant for our 33 mil USD expansion project. He helped us specifically in our tender process for the electrical distribution system. He also helped us with developing a strategy on how to handle our relationship with the local power bureau. His help in this area was extremely beneficial as his detail knowledge of the Chinese bureaucracy saved us time and money.
Dennis Appel / now dennis_appel@yahoo.com
August 2002
---
REFERENCE, THORSTEN KALUS, SENIOR PROJECT MANAGER, SIEMENS GERMANY / CHINA

… Thorsten Kalus has worked for Siemens for 9years – I had the pleasure working with him from 1995 – 1998. Due to his management style and personal appearance it was always enjoyable and fun working with him although pressure was always present and his requirements and expectations high.

Due to Thorsten's experiences in Project Management and networking capability Siemens China had further used him to acquire projects especially in the Southern Region of China. Thanks to Thorsten's support Siemens Ltd. Guangzhou could extent its project list of 2 more projects. Also was Thorsten assisting and supporting the negotiations for commercial and technical contract details. I can highly recommend Thorsten' service. Please do not hesitate to contact me for further questions and confirmations for the above.

Thomas Friedrich, Section Manager

Siemens Ltd. China / Industrial Solutions and Services

thomas_friedrich@siemens.com

July 2003
---
Contact us
Telephone: +86 138 1611 6670

===========================================================